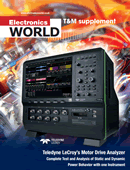 The Annual T&M Supplement, sponsored by Teledyne LeCroy, was published in July.
Click on the image to read this exclusive report for free.
In the latest T&M supplement we focus on pulse-amplitude modulation technique called PAM4 as a way of doubling the bit rate in a channel without doubling the required bandwidth. We also focus on data analytics tools; how to test new HDMI features in development, quality assurance and production, especially to support the HDMI 2.0a standard with data rates up to 18Gbit/s; but also the USB Type-C connector, which marks a shift in preferred display interfacing, as DisplayPort now appears to be the 'go to' choice for video transport. We also highlight the importance of future-proofing T&M equipment through modularity.
---